A Heart Healthy Thanksgiving
A few ideas from the Pulse Family to have your best holiday yet.
How is it already October!? The trees are turning and we're all trading in our shorts and flip flops for our long pants and sweatshirts, and for many of us, we are making plans to gather with loved ones to reflect and celebrate all that we are grateful for.
Did you know that being thankful is good for you? Studies have shown that the practice of gratitude is linked to reduced stress, more feelings of optimism and better sleep, among other psychological health outcomes. Whether it be through journaling, debriefing on our day/ week/ month with our loved ones, or sharing what we're thankful for around the dinner table, sharing what we're thankful for just feels good.
Pulse Gets Grateful
We would like to take a moment to share with you some awesome ways to enjoy your best Thanksgiving ever:
In the Kitchen
How does that saying go? What's the quickest way to someone's heart? But how can we make it heart healthy?
Canada's Food Guide
Who has seen the new Canada Food Guide's My Plate?
If you're playing chef this weekend, let the Canada Food Guide My Plate serve as your menu planning guide:
Make half the options vegetables and fruits; here at the Pulse Cardiac Health Headquarters in the Okanagan region of BC we are SPOILED in October with beets, broccoli, cauliflower, carrots, parsnips and kale to name just a few! The other half of the menu should be split between whole grain foods such as whole grain bread, and protein foods like the classic Thanksgiving turkey. For prepared foods, check out the labels and look for options lower in sodium, sugars and saturated fat. Young or young at heart, everyone should have at least half of their plate be vegetables and fruits. Have a contest to see who can have the most colourful plate!
Here is a recipe for roasted butternut squash, which is high in vitamin C, which helps our bodies absorb iron, helps wound healing, and acts as a powerful antioxidant.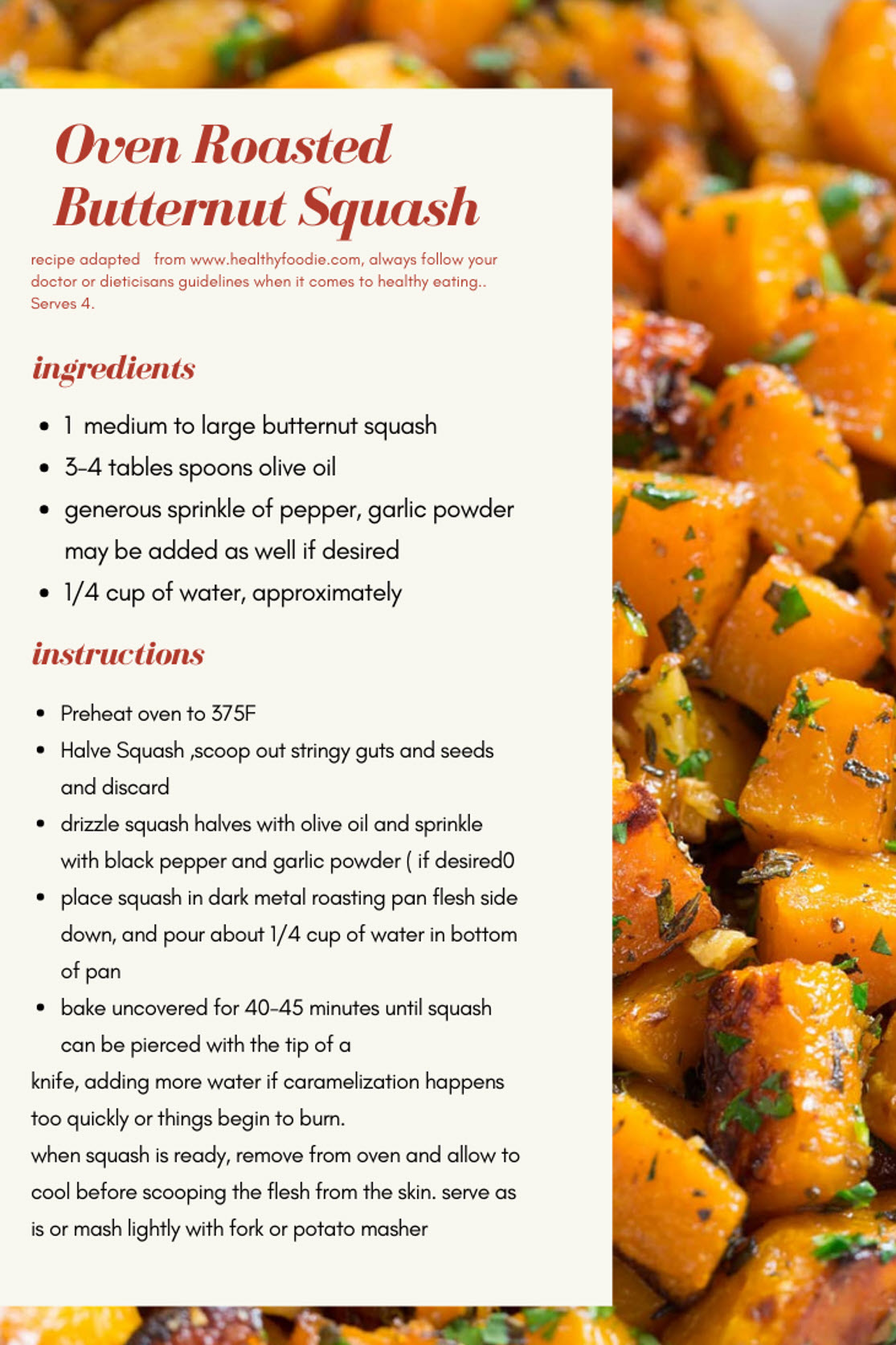 Not the chef? Think of your plate as a pie, half of that pie should be vegetables and fruits, and the other half should be half protein foods like meats or substitutes and half whole grain foods.
Allow yourself to be present, eating mindfully and listen to your body's cues on when it is satisfied. Let yourself enjoy your meal (dessert included) having used the above tips as your guide. Let water (sparkling or still) or a non-alcoholic beverage be your drink of choice as you toast to all we have to be grateful for.
Meaningful Movement
Remember, you are human. Listen to your body and give it rest when you feel the need and remember it's okay to say no and ask for help. Between decorations, cooking, and cleaning, it takes a village!
If you are able, and have been approved by your medical team, a pre or post dinner walk is a great way to reflect on what you are grateful for and share in the beautiful fall weather with loved ones. Spending distanced time outside with loved ones is also a way to spend time with those we love, while keeping each other safe in these new and sometimes trying times.
Often trail systems are listed on City Parks and Recreation or Provincial websites, which is helpful for finding beautiful nature walks in your area. If you happen to live in the Kelowna area here are some easy, accessible walks to try with whoever you're spending Thanksgiving with:
Mission Creek Greenway
An easy to moderate trail system, with washroom and parking access, plenty or rest areas, trail conditions are conducive to most mobility aids & strollers
Mill Creek Park
A mostly flat, shaded trail system that makes users feel transported to the middle of nowhere, this does have some changes in elevation, so may not be for everyone.
Abbott Street Recreation Corridor. With Plenty of Parking, gorgeous trees and paved walkways, this is a fun walk for the whole family to catch glimpses of the lake, and check out beautiful heritage homes.
However you celebrate, we'd like to wish you a restful, safe and healthy Thanksgiving from the Pulse family to yours!
Sources used:
Canada, H. (2019, January 22). Government of Canada. Retrieved October 05, 2020,from https://www.canada.ca/en/health-canada/services/nutrients/vitamin-c.html
Food guide snapshot. (2020, January 28). Retrieved October 05, 2020, from https://food-guide.canada.ca/en/food-guide-snapshot/
Foodie, S. (2020, April 26). Oven Roasted Butternut Squash. Retrieved October 05, 2020, from https://thehealthyfoodie.com/oven-roasted-butternut-squash/
Valikhani, A., Ahmadnia, F., Karimi, A., & Mills, P. J. (2019). The relationship between dispositional gratitude and quality of life: The mediating role of perceived stress and mental health. Personality and Individual Differences,141, 40-46. doi:10.1016/j.paid.2018.12.014